Being honest towards yourself, gives you all possible opportunity
to put your Challenges, Insights, Gifts and Tools to use
Aware that the Nan Yar – Who Am I cards are a reflection of my own thoughts and convictions, I always try and approach any card I draw without judgement or preconceived ideas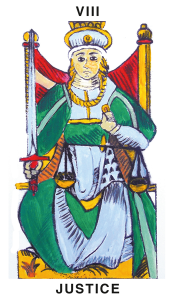 As Gatekeeper of the 7 cards that mirror the Journey of the Soul while on Earth,
Card number VIII, Justice, is the master-teacher of being both honest and fair towards oneself.
Curious for more? Click on the card and/or go to: Module 3 of the free on line
Nan Yar – Who Am I course: The  3 Realities and their Gatekeepers.