As especially the inhabitants of The Hague may have noticed today, the third Tuesday of September, is Prinsjesdag in The Netherlands; the traditional reading of the governments declaration on how the available resources are going to be divided and ruled.
The tradition begins with the our local royalty setting off  in their glass carriage, in which they ride from Palace Noordeinde to the Ridderzaal; where the Dutch King Willem will read out loud the governments plans for the coming year.
From what I've heard there is very good news for the big multinationals who will be free from having to pay dividend tax,  a generous gift that will save them an estimated 1.4 to 2 billion euro's in Dutch taxes. Undoubtably this will be of influence on reputation of the CEO's who will be given the credit for better profit together with a bigger bonus.
Also very good news for investors who have put their money on healthcare. The obligatory health care insurance costs, will rise again considerably in 2019 and also here Prime Minister Mark Rutte has come up with the  idea to give the dividend return on investment to the shareholders rather than return it to the people who could hardly afford to pay their healthcare  premium in the first and as such have little value for Dutch economy.
Now, to be honest; had I been asked to write the Prinsjesdag speech for today I would have suggested to talk about what it is like to actually build a sustainable community with a long-term vision. A country where the riches of investments are returned back into society instead of used to buy a third or fourth property, yacht, watch or vintage car.
Come to think of it I would have said buying jewelry or having a bathroom equipped with golden taps should be forbidden as long as there are people who live in the streets because they lack the funds to support themselves or who live shorter lives because they miss out on medical treatment they need. I would have said I sincerely hope people will come to see that in order  to create a sustainable world; where every one gets to enjoy the basic human right to develop oneself and to be secure; it is important we learn to see how we are all interconnected and depend on each others generosity and empathy, rather than the ability to buy goods off each other. To only use what we need ; stop wasting food; stop polluting our environment.
I would say how we should shed the Medieval, Victorian and Roman Emperor beliefs that humanity consist of proletarians, capitalists and aristocrats; for humanity consists of people rather than entities and their monetary worth.I would have said it is about making a better future rather than about making money
I passionately believe in a future where people will have learned how to do this.  In this future, history books will show in 3 dimensional holographic images of Prinsjesdag in 2018, declaring the rich should be richer and the poor should pull up their own socks; and teachers will point at these pictures and say: those were they old days; when the peoples leaders had yet to learn how to think clearly.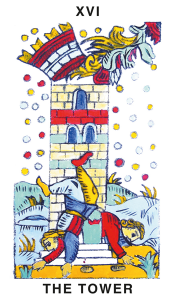 The card that signifies all this is card number XVI: 'The Tower', the second card of the third row/7 cards of the Spiritual layer of existence. In order to walk the path of spiritual understanding and the meaning of everything humanity accomplishes on earth, it is important to let go of attachment; attachment to material possessions; but also attachment to material blindness; the conviction that in order to thrive one needs to be rich.
The Word is at its height of materialistic thinking at this point in time and evolution.  Never before in the history of humanity have we been this far off from the connection with our source and destination. Fortunately there is hope.
Movements left and right pop up to save the world from imminent disaster if we keep exploiting it the way we do; only thinking of Lord Economy. Around me I see a new sort of people come into being. Aware,  sensitive people who understand about sharing and self sustainability.
I invite you to click card XVI 'The Tower' and  read its further explanation and suggest you write down in your own words what its meaning triggers for you in your personal life; or to draw your own card, and see what it wakes up within.
namasté
Ingrid
Visit my website  to draw your own card or for more information about card readings, either by Skype or in person; and Nan Yar- Who Am I Life Make Over courses
More Questions? Mail me at info@energycounseling.nl
The abridged spoken version of this blog, features as end note on  'Dutchbuzz', the radio hour for Internationals every Tuesday  from 10 to 11 pm on 'Den Haag FM and can be found in the Programme Archive of  the Dutchbuzz podcasts, dated September 18 , 2018.