The National Expertise Centre for Dying is a non-profit organisation. The 4 women behind the foundation, Ineke Koedam, Els den Outer, Lyda Westenbrink and Ineke van der Ouderaa, regard it as their mission to create a contribution to the quality of living for every person who is dying by giving insight in the process of dying as well as enhancing the knowledge and wisdom in relation to the end-of-life experience.
Website quote:
We envision a community in which dying is an accepted part of life. For those able to release their resistance towards dying and to fully embrace life including its highs and lows as well as its disappointments and successes, life will happier, less fearful, hold less reluctance and offer a more conscious openness. We encourage and support a culture of dying, based on insight and confidence.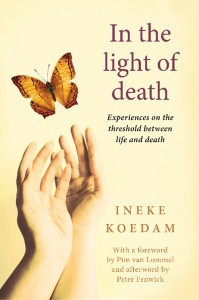 At the initiative of Energy Medicine Nederland  the following interview with Ineke Koedam, co-founder of the National Expertise Centre for Dying and author of the book, 'In the light of Dying', explores the growing awareness in the process of dying as well as its layered structure.
***
Questions 1 & 2: The source of inspiration of the National Expertise Centre and its approach towards the process of dying.
Question 1. Which source of inspiration does the National Expertise Centre for Dying work from?
Ineke Koedam: I have been involved for many years in the process of dying and all it involves, as hospice staff member and while researching end of life experiences. As a result, I observed a significant increase in using medication surrounding the process of dying as well as an increased use of palliative sedation.
Also, two years ago, during the first hospice care congress, I noticed how most attention was given to the physical aspect of dying. 'What to do when people feel oppressed'; 'How to properly lift people'; all more to do with practical nursing care. Feeling it should be commonly known so much more is involved in the process of dying, I felt I had to add other elements. To focus mainly on the physical side, seemed like taking a step back after the pioneering work of people such as Elisabeth Kübler Ross.*
(*Swiss-American psychiatrist, who has been of great significance to the growing cultural awareness in regard of dying and grieving.)
Question 2 : What do you think caused this increase use of medication and focus on the physical side of dying?
Ineke Koedam: This has a lot to do with the society we live in. While it is suggested doctors are insufficiently trained to support the communication surrounding the end-of-life phase, – which in turn is causing the continuation of treatment-,it is also often due to the requests of the person dying or the family. At such a moment, this seems easier than coming to terms with closure.
Questions 3 & 4:  Becoming conscious of the process of dying and its physical, emotional, mental and spiritual aspects.
Question 3. What exactly do you mean, when you say 'it should be commonly known so much more is involved in the process of dying (re: answer to question 1).What is it we should know or are not aware of?
Ineke Koedam: That is precisely what justifies the existence of the The National Expertise Centre for Dying; to promote awareness in that field. A lot of knowledge and wisdom is available within the hospice world in regard to dying and how to support the process. Outside of this world, people do not really think about it until the moment is there, which is perfectly understandable.
Hence it is not so much our goal to encourage people to talk or think about it beforehand. What we do want and have learned from experience is how important it is to answer to the need to define the process; wanting to understand it once people are confronted with mortality. 'What is happening? How do I cope with this?
At such a moment, we find it important for people to know the national centre exist and harbours the knowledge and wisdom; not just our own, but also that of others for whom we want to serve as a platform, as reflected on our website, in the section: 'Ter Inspiratie' (Inspiration)
Question 4: Is the moment in which one gets confronted with mortality – either one's own or that of someone close – also the moment where one is naturally inclined to want to know more about the process of dying and explore that path of expertise?
Ineke Koedam: Yes and No. To some people it is; they already go about it consciously, but a large group abdicates from it; which is also a way of coping. What is true, is that the person closely involved, can experience profound insights, which does not require significantly spiritually evolved understanding. It can happen to the most rationally thinking people.
What we want to make known, is that dying is a layered process. Something happens on 4 different levels:
1) Physical,
2) Emotional,
3) Mental,
4) Spiritual;
All of these are layers that turn us into the human beings we are. Something takes place in all 4 categories; all of them just as important. People supporting the end-of-life experience can refine themselves in serving as an instrument. On a physical level it is quite clear what is happening. To see the emotional and mental side of it is already harder to do; and to envision the spiritual experience, one will have to refine one's senses in order to accommodate that.
When approaching their passing, people can have experiences that are not easily established in our day-to-day awareness. It is this aspect we can evolve in. As a The National Expertise Centre for Dying, we find this development of importance, while we see a change of needs as well as a change in how people experience the end-of-life process, the closer they come to the moment of passing.
Questions 5 & 6: The future of end-of-life care and the viewpoint of society
Question 5:  Do you envision a future in which it will be a naturally gifted commodity within the evolution of humanity, to be susceptible to both the physical and spiritual side of dying? 
Ineke Koedam: Yes I do believe so. I think a lot is changing this very moment and that all that is going on is a reflection of an enormous shift taking place. This is also what causes polarisation; people developing at the one hand; yet it being opposed at the other.
Question 6: Is the National Expertise Centre for Dying advocate of a certain ideology or does your know-how have more of a supportive character?
Ineke Koedam: We are no missionaries, we have a supportive role. Initially we will attract people who can already identify with our expertise on the subject, but I think it would take very little for a bigger audience to start and think differently as well.
Having said that; in matters like this everyone has to walk his or her own path. All we can do is issue the invitation, to which people can either respond or not.
Questions 7 & 8: The political and public discussion on the legislation and growing awareness surrounding the end-of-life experience.
Question 7: Do you think the present political discussion and legislation surrounding the process of dying, is supportive of growing awareness or are these two completely different matters? Politics seem at times to be so far removed from what is actually going on.
Ineke Koedam: Yes, that is true. At the same time however, I believe developments like this carry a purpose. Because of the proposed legislation, people start to think and wake up. It encourages people to think about it on a different level. Some events that might appear to be a set-back, can turn out to be another step on the road ahead
Question 8: What does the National Expertise Centre for Dying actively do to support a growing awareness of the end-of-life experience?
Ineke Koedam: We have declared May 24th, the day we first presented ourselves to the outside world in 2016, to be National Awareness Day for Dying . (Nationale Dag Aandacht Voor Sterven.) This year we will organise a symposium for care-proffessionals , volunteers and other interested parties. For people who do not attend a symposium like this, we are presently working on a one-act theatre play, written by a theatre maker and actor who portrays in 30 minutes all that happens when facing his end-of-life.   The play is based on the stratification of the process of dying; the physical, mental, emotional and spiritual aspects **. (** answer question 4)
After the performance we offer a platform for questions and exchange.
Questions 9,10 & 11:  End-of-life support and expertise
Question 9: To be confronted with mortality and end-of-life experiences is usually something that befalls someone rather than something someone goes looking for. Can you name some characteristics that mark a proper approach once the times comes?
Ineke Koedam: We recognize 3 major values or competencies or talents; also mentioned on our website, from which we work and find of importance in the end-of-life approach.
First of all this concerns Realism. The ability to see reality as it is, renders a natural state of being and enables you to be in the 'here and now', which is necessary to see what is really needed in the moment
At the same time, realism requires Gentleness; towards the person dying, but also towards oneself. It demands realism with an open heart.
The third aspect is Stewardship, not in the sense of submissiveness, but with regard to the use of core- talents; one's own unique gifts, such as offering space, peacefulness, compassion, harmony, to be donated with an open heart and gentleness. Which core-talents are chosen depends entirely on who you are.
Question 10: What is it you do personally when supporting someone who is dying and you observe that person is not ready to embrace all that the process involves? 
Ineke Koedam: I remain neutral. When people are ready they will accept it in their own way. In relation to this I would like to emphasize the National Expertise Centre is not rooted in any specific religious tradition.
We place the process of dying in the perspective of the elements, Earth, Water, Fire, Air and the element of Ether. They all compound to what makes us human and play an important part in our lives. During the process of dying, these elements leave the body, one by one. The workings of this process are very helpful to give insight in the end-of-life experiences and that is what people need at such a moment. The elements exceed religious tradition and can be found in many world views.
Question 11: What do you think the general consensus within society in regard to end-of-life experiences will look like in future?
Ineke Koedam: People who come to us now and want to participate in the training programs we offer are often nurses or already otherwise working in a hospice. However also people who really feel drawn to us and know this is where they need to be come to us, answering to a calling on an inner level of where they want to be.
My colleague and co-teacher Els den Outer en I, are known to have said that the people supporting the end-of-life experience are to be the priests and priestesses of the future. It used to be we were bound to religion and religious traditions. This is no longer a given fact. Those supporting the process of dying find themselves in the twilight zone in many different ways as well as the different layers of the process of dying.
It has after all, to do with so much more than the physical aspect only.
***
More information in Dutch can be found on:
***
The book 'In the light of death. Experiences on the threshold between life and death'
by Ineke Koedam is available in Dutch and English.
***