In all 4 suits, Challenges, Insights, Gifts & Tools,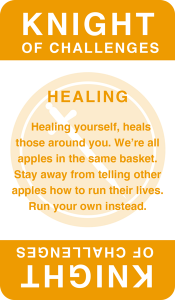 the Knights are all about knowing what you want for yourself, while asserting yourself and obtaining your goals peacefully, without letting the dragons get the better of you.
I had to smile when I drew this card in the early hours of this morning, for I have an appointment this afternoon, where the rules of give & take need to be handled with care;
not giving too much away, nor being too greedy.
What aspect does the Knight of Challenges reflect for you?
Click on the card for more information on its characteristics.
Januari 2016 special!
Book your individual life counseling reading  for January 2016 and get a full session reading voucher for you or to give as a present for only 20 euro.  (valid for one year)

You can make appointment by using the contact form.