For a number of years now I do my grocery shopping at the Firat, in the Weimarstraat in The Hague. They have lovely vegetables; many of them organic at a fair price and an absolutely fantastic butcher's shop that also sells  home made condiments.
What I also love about the shop,is the fact that they are a hard working family business who treat you like a welcome customer. They do so with a good sense of humor too.
One anecdote will always stay with me. It's one of those stories that makes you believe in other worldly helpers. It was a couple of years ago. At the time I was driving a very old blue Japanese car that looked its age. I had just been to a very difficult meeting  to do with government regulations that were strangling me financially as a small business owner. Complicated story involving lots of red tape and insensitive rulings. It had left me grumpy, even somewhat desperate. What was I going to do to survive?
After the meeting I had driven myself off crying in my blue Japanese car. Halfway home I happened to pass by the Firat and spotted a free parking spot right in front of the entrance. On impulse I parked and did some shopping.  Since I didn't bring any bags, one of the family member owners suggested he put my shopping in a carton box and carry it to my car for me.
'Are you parked far away?' he asked
'Just over there', I said, pointing at where three cars, among which mine, were parked in front of the shop.
'This one?' the friendly shop owner asked,  nodding his head to indicate a rather big, fancy looking family stationcar.
'That one' I answered, pointing at my ye olde faithful blue relic.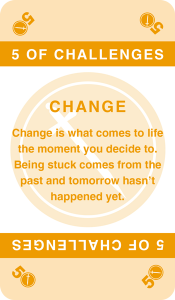 'Ahhh…', the shop owner cried out, '…you have a blue mercedes.'
That day, that man turned my day around. In a way, although he'll never know it unless he reads this blog,  he turned my life around.   I drove the rest of the way home smiling realizing how blessed I was. I may be a far cry away from what I was used to in my well to do days; but in way, I started to realize this was better. I was learning survival isn't all about having the money to do so; but about how we relate to each other; how helpful we are and how kind; how understanding.
It was a wise and profound lesson for me. I drove home; cooked my kids a lovely dinner and was thankful for the good the day had brought me; along the way deciding that government rules and regulations were lifeless and could hold no power over me and my mood, as long as I embraced the positive and was alive and kicking.
Ingrid Schippers, 29-01-2018
 Click on the card to learn more about its background
The spoken version of this blog, features as end note on  'Dutchbuzz', the radio hour for Internationals every Tuesday  from 10 to 11 pm on 'Den Haag FM and can be found in the Programme Archive of  the Dutchbuzz podcasts, dated January 29, 2018