Card of the day: 7 of Insights
'7' is the number of completion, in the sense that everything you need is provided for;
all conditions needed to proceed are there.
What is left is for you to take action, while relying on your inner compass, creating your very own outcome.
'Insights' are those moments of recognition, the ideas that seemingly come  'out of nowhere', your very own, from your inner world.
Ask yourself this today: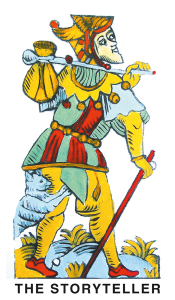 How often do I follow my inner guide, my own Storyteller;
and how often am I distracted  by what I – think – is expected of me?
The best things come at the most unexpected moments.
Surprise yourself by being a little stubborn every now and again, choosing your own path rather the treaded one.
Dress yourself in what feels good, give yourself a thumbs up in the mirror and make (it) your day.
Ingrid Schippers
26 Oktober 2015
Presentations, Group training & Individual sessions.
Body language of Energy,  simple natural techniques promoting energy flow through out the day.
Nan Yar – Who Am I, 78 ways to make your world a better place.